Who doesn't like potatoes? Wait, don't tell me. I guess there are bound to be people who do not like these delicious spuds, although I suspect they are in the minority. If those in this minority are converted after reading or experimenting with what's to follow, I'll take the blame for it :-p.
Here's your inspiration: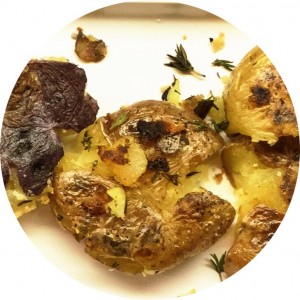 This is is likely THE easiest thing you've ever made, right up there with toast!
Ingredients: For 4 servings
Mini potatoes – let's say 12 (but depends on your appetite & severity of potato obsession)
Coconut oil – 4 tbsp
Fresh thyme – 3-4 sprigs
Sea salt – to taste
Fresh cracked pepper- to taste ( hint- you can never have enough, really)
Preparation:
1. Wash & boil the potatoes with skin, till fork tender
2. Drain the potatoes & place on a cloth or paper towel so they are not drippy wet
3. Add a tbsp of oil to non stick griddle or pan on medium high heat
4. Place mini potatoes on the griddle (about 6-7 on medium sized pan)  and with the back of a flat bottomed bowl or other dish, gently press towards the pan bottom – you've got smashed potatoes
5. Sprinkle sea salt, cracked black pepper & thyme leaves over the potatoes. Let the potatoes catch some heat and get crispy golden brown, then flip
6. Drizzle some oil on the pan if it's starting to dry out, sprinkle sea salt & cracked black pepper and allow potatoes to get golden brown
7. Transfer to serving platter and repeat with the remaining potatoes
Hint: when I make these only a fraction of them make it to the table; my family devours them as they hit the platter, so you may consider increasing the portion size or making another side :-p